Accounts Receivable
The Accounts Receivable module gives you complete control over cash flow and facilitates the timely application of cash collection. This flexible module saves user's time by making every day tasks efficient.
Our transaction processing enables fast, accurate cash and credit application. Full or partial payments by cash, check, credit card or bank transfer may be applied to customer invoices with the click of a mouse button. Miscellaneous cash, customer refunds, adjustments, returned payments and automatic credit application are also available.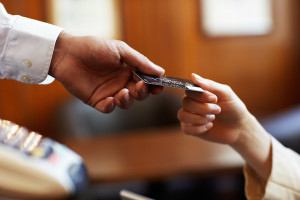 With the variety of customers from those corporate holdings to individual entities, statement requirements vary. Our statement program can deliver on what your customers demand. We can produce individual statements as well as the power to consolidate subsidiary customers into a corporate statement. Statement cycles are user defined and assigned by you so they print when you decide they should.
With high-function, low-cost laser printers becoming the standard in business forms production, we've given you the option to print your accounts receivable statements on a single-sheet laser print form. You can reprint a statement any time, for any customer.
Our Aging Reports allows you to sort and summarize by customer, class and sales representative. You may age from either the invoice date or due date, and all aging values are interactively determined. In addition, you may dynamically assign customers into different aging classes for the purpose of maintaining stricter control, you decide the aging intervals. The aging report can also be back dated to give you an historical snapshot of your accounts receivable.
Credit checking a customer account demands access to a variety of historical data. That's why our accounts receivable module provides instant visibility to your customer's information. Our drill-down searches provide quick answers from customer invoice to payment, for both open and historical transactions.
Our team will customize the general ledger module to meet your specific needs, Request a Consultation to learn more.
View the full feature list
Here are a few features that our customers use every day:
Multiple customer search methods
Extensive Customer Activity Inquiry
Fax/Email statements or invoices from AR inquiry
Generate on-demand statement
Run past or future aging reports
Multiple methods for payment processing
Flexible aging periods by customer
Credit card processing
Comprehensive customer collection notes
Automatic application of credits via sales order entry or cash application
Generate customer refunds with integration to accounts payable
Many customers find these other features useful too. This is a partial list of other features available:
Age by invoice date or due date
Sort aging report by customer number, name, or by sales rep
Multiple aging formats
Flexible statement cycles per customer
User defined finance charges per customer A/R Class
Multiple A/R General ledger account support
Field sensitive security on customer credit limit
Miscellaneous cash entry
Deposit slip generation
Accounts receivable detail inquiry
Open accounts receivable inquiry
Accounts receivable check inquiry
Customer accounts receivable history
Daily customer payment/invoice history
User defined AR adjustment codes
Customer mailing labels
Automatic application of terms discounts with user override capability
Customer Listing with user defined parameters
Historical view/print cash groups
Unapplied cash entry and distribution with reference invoice number
Overpayments supported
Customer class designation for sales analysis
Daily cash edit report
Multiple customer ship to addresses
Multiple phone number and contact entry per customer and/or ship to address
Balance forward or open item statements
Multiple salesperson support per customer
Additional security within customer maintenance to control add/change/delete per user
Re-open of paid invoices
Check reversal
Multiple bank support
AR Summary inquiry
AR balance inquiry
User defined summary or detail General Ledger integration
Customer Detail AR report
Customizable terms codes including terms discounts as well as split terms
Don't see what you need?
Contact Us
to learn if we can meet your specific needs!